Free shipping no sales tax

The Highest Rated, Most Positively Reviewed Infrared Sauna
Unlike most saunas imported from Asia, TheraSauna is handcrafted in Dewitt, Iowa. For over 25 years TheraSauna has been leading the way with the only USA made infrared sauna loaded with exclusive features and patents.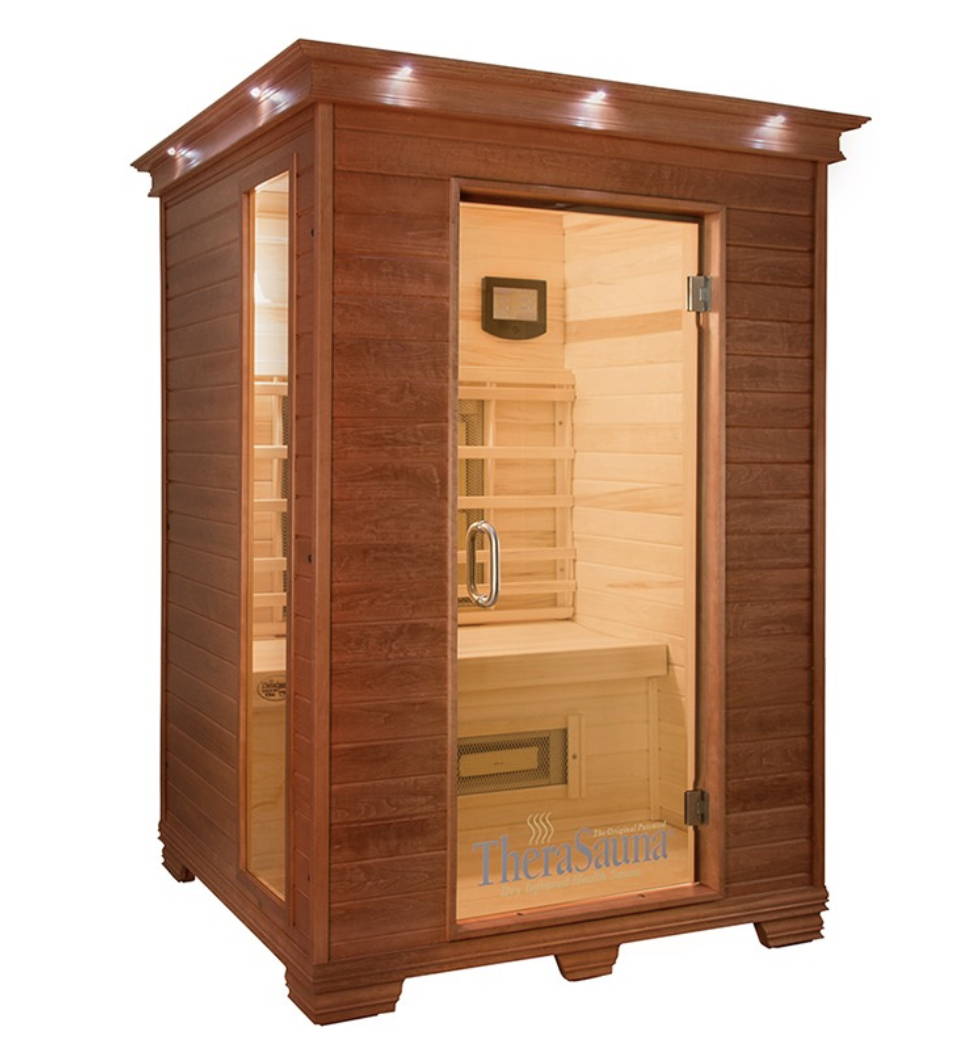 Fully equipped with Near, Mid and Far infrared wavelengths designed for the deepest infrared penetration. Although FAR infrared has been shown to be most important, MID and NEAR compliment FAR infrared very well, opening up a plethora of additional health benefits.
Images Supplied From A Recent Customer
Natural Aspen finish option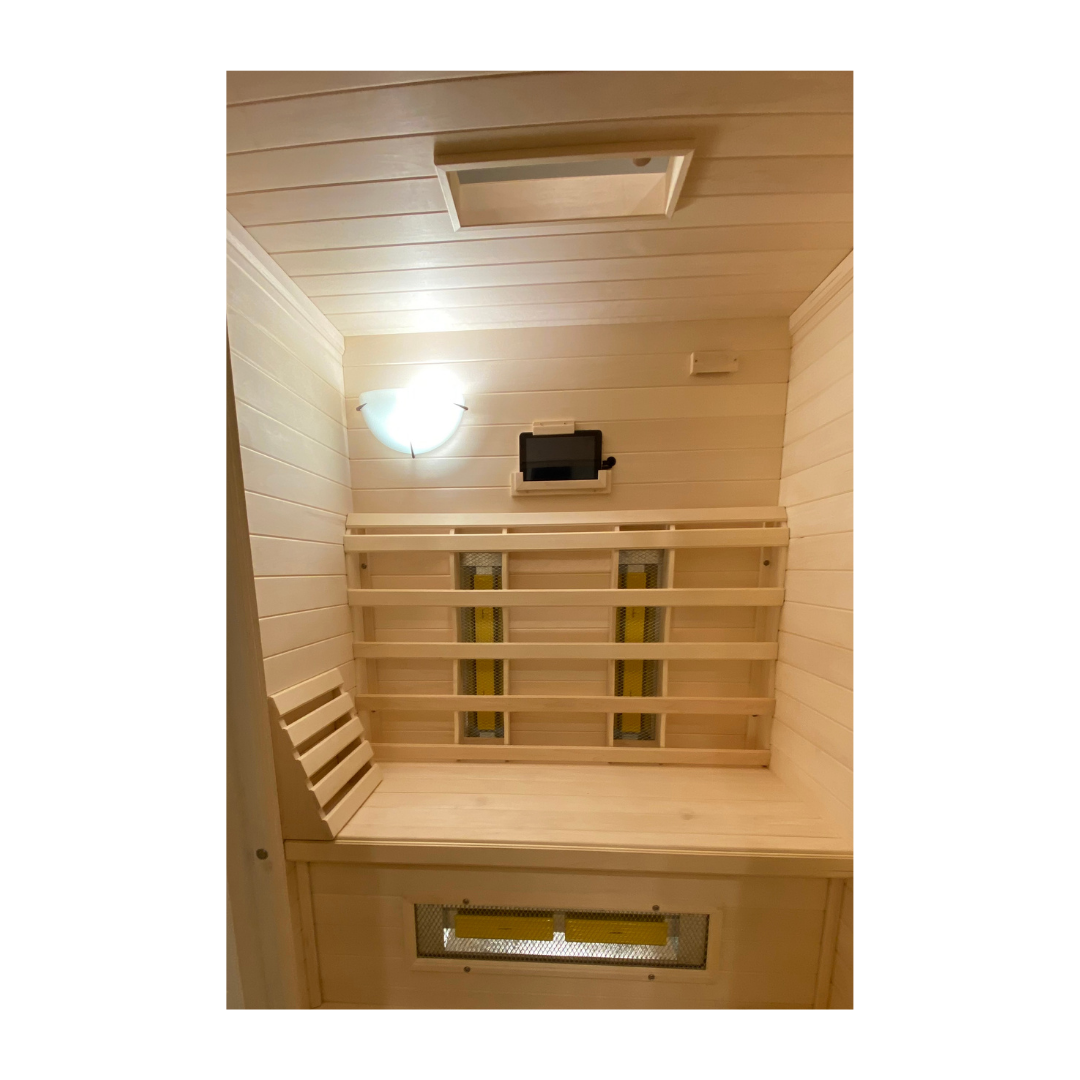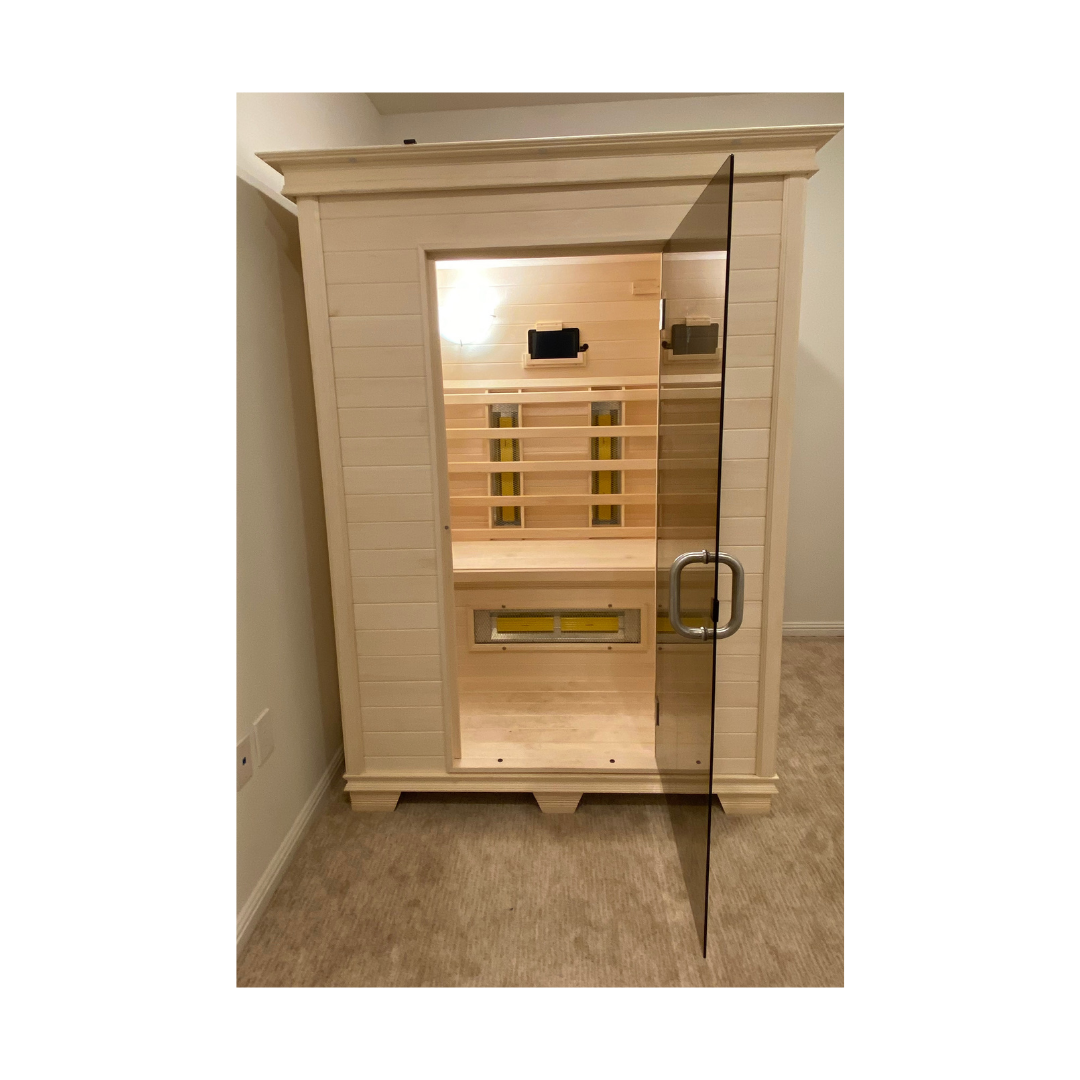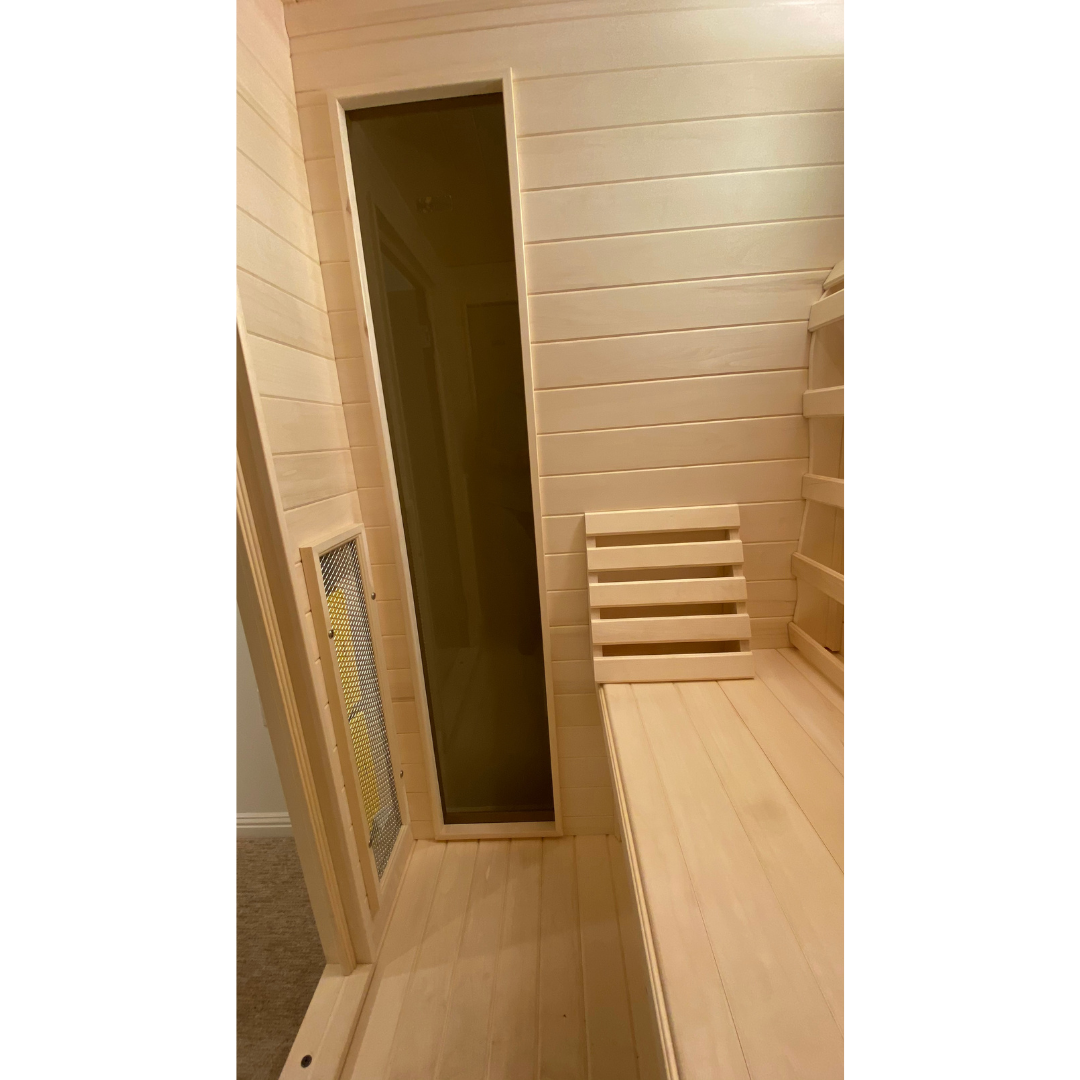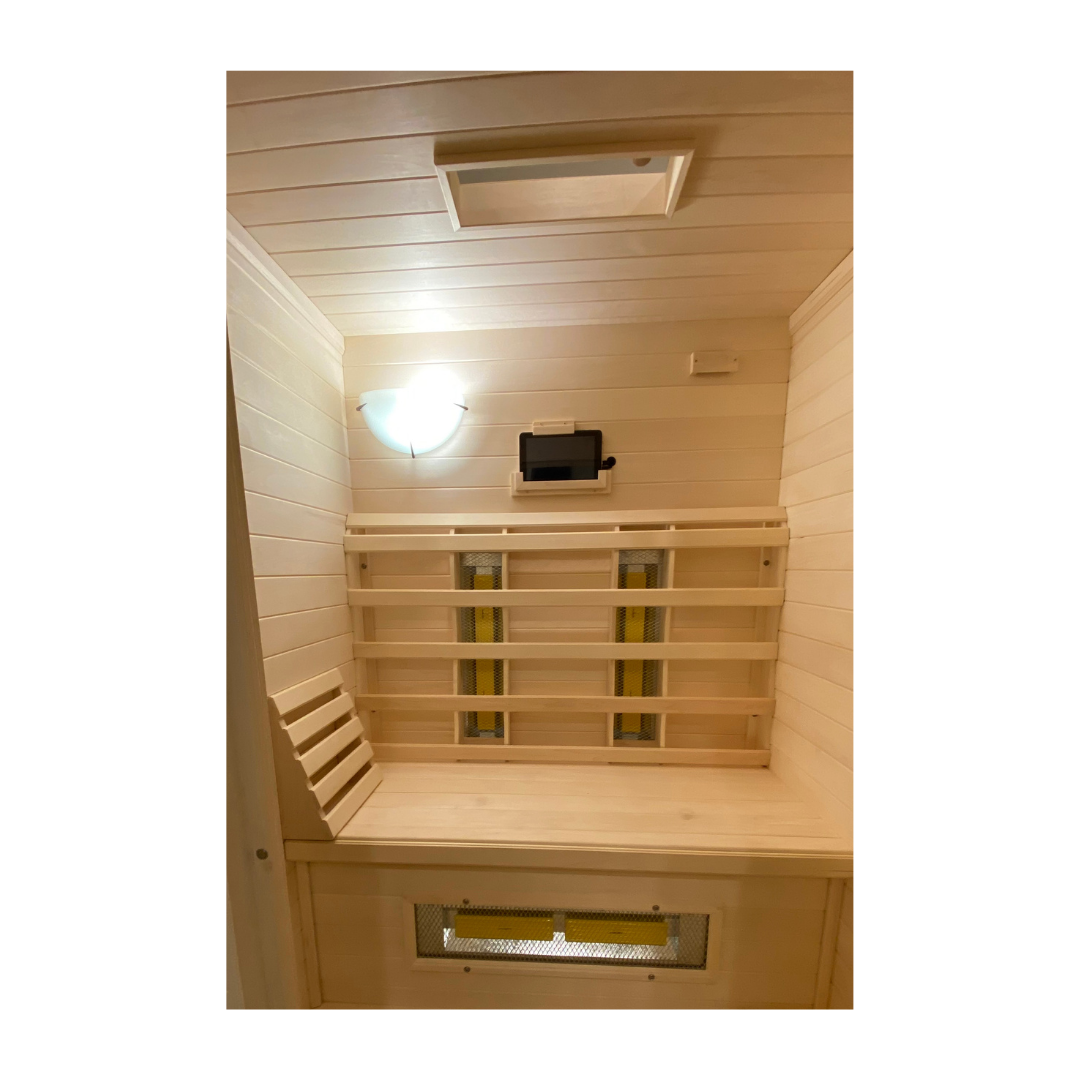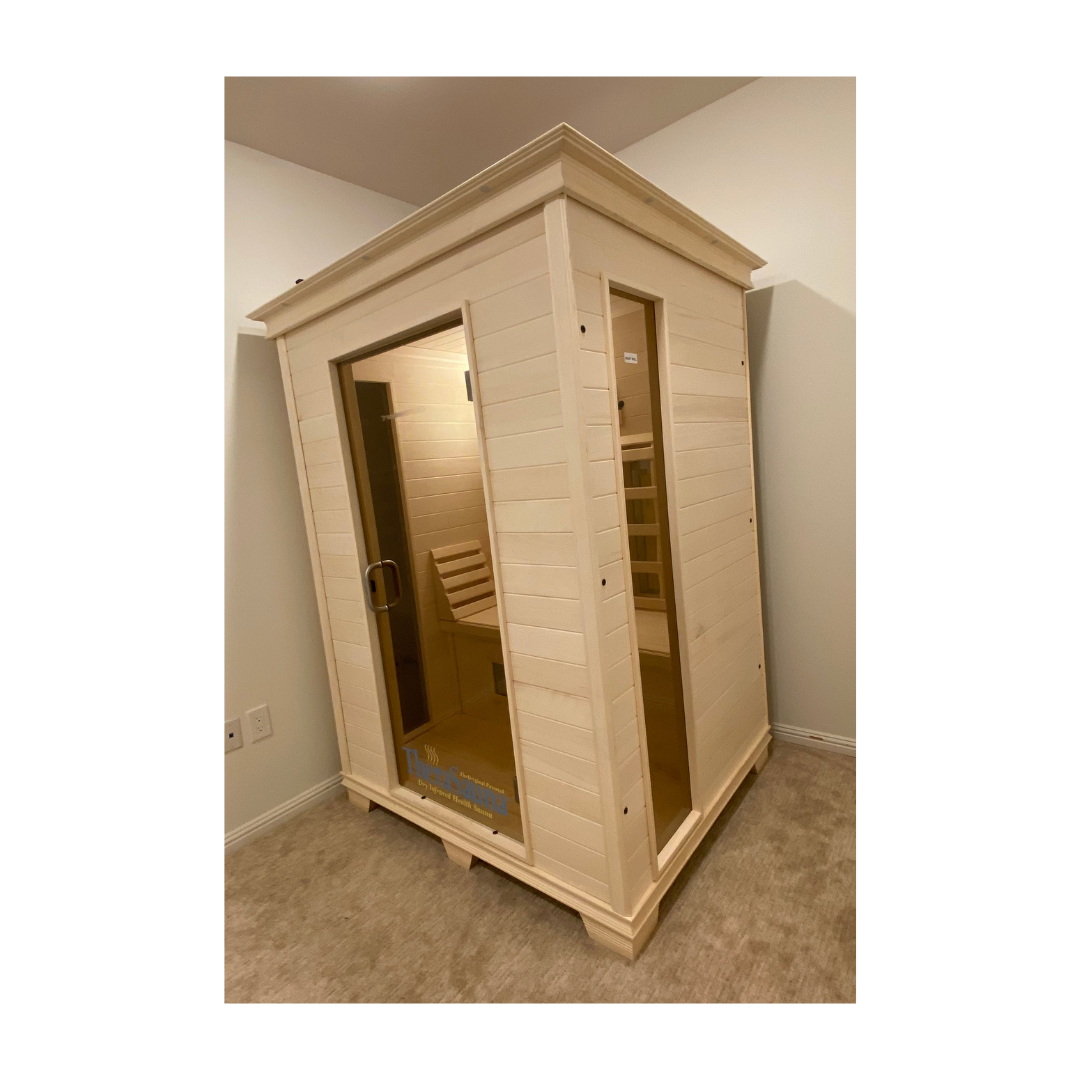 Easy To Use Customizable Control Panel
The most advanced control system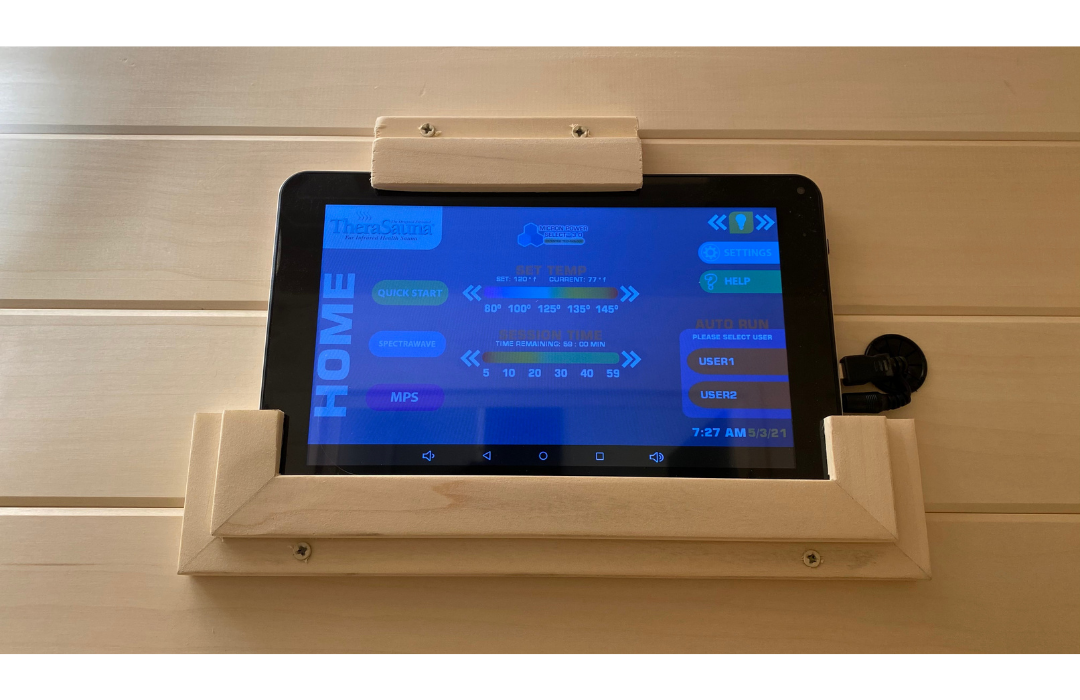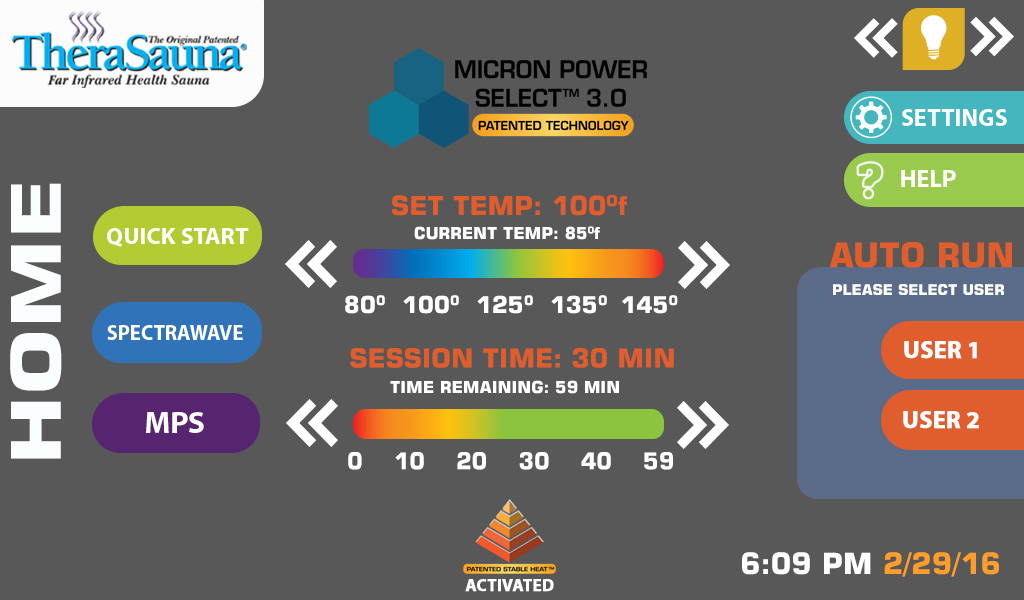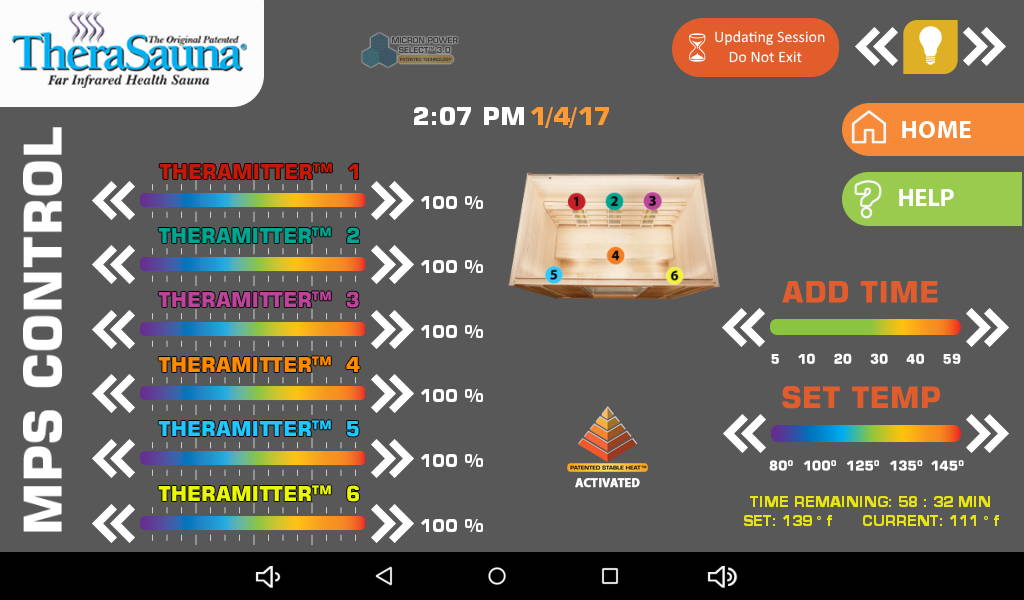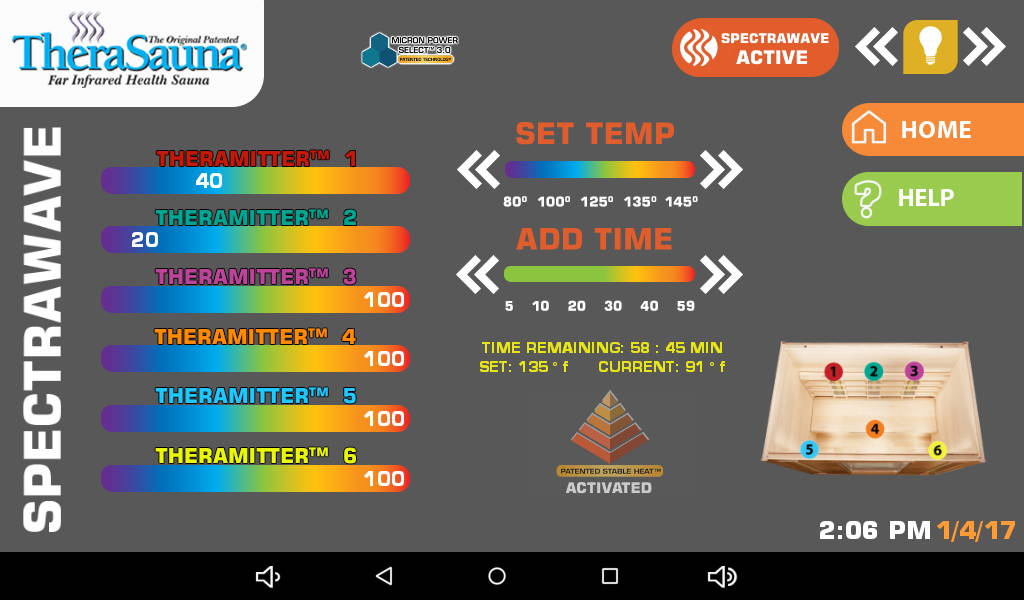 The patented MPS Touchview 3.0 Control is the newest infrared sauna breakthrough technology! The touchscreen control allows you to customize your sauna sessions. Adjust time, temperature, infrared wavelength levels, and more!
Easily delivering complete control at your fingertips. The MPS Touchview 3.0 allows you to run your sauna, manage your settings, get help or select one of two auto run settings and much more. You can also adjust the brightness of the sauna light or the volume of the control sounds with just a couple of taps! Stylus included.
The MPS Touchview control panel also allows you to adjust various settings such as setting the temperature mode, date, time, sound therapy, preheat, auto run and screen dimming options. Personalize your settings so you can easily achieve your wellness goals.
Have your sauna experience exactly how you want it. This feature gives you 15 different power level options and allows users to adjust each individual TheraMitter Bank. This means you can customize each heating bank for your exact temperature and wavelength preferences. For example, you want your head warm with near infrared wavelengths but you want your feet cool and your back hot with far infrared. Choose your mode for you and save those settings for up to two separate users.
This screen is a graphic illustration of how your different zones are working. It shows current and set temperatures and elapsed time left. Here you can set temperature and add time to your session. In SpectraWave mode, press to add time to your sauna session, and increase or decrease the set temperature. Levels are individually changed every two minutes automatically. This allows the user to experience a combination of near, mid and far-infrared wavelengths.
Never worry about a cold sauna again! This option will (in MPS and SpectraWave Mode) heat your sauna to your set temperature. You are even able to save a different automatic start-up time for all 7 days of the week for up to two users.
Enjoy relaxing, built-in sound therapy. The Audio Screen offers 5 unique & relaxing tracks that can be played during your sauna session. Choose from Rolling Waves, Oceanside, Jungle Symphony, Bubbling Brook, Peaceful Forest, or a mix of these for the perfect relaxing sound therapy during your sauna session.
The most advanced ceramic infrared heating technology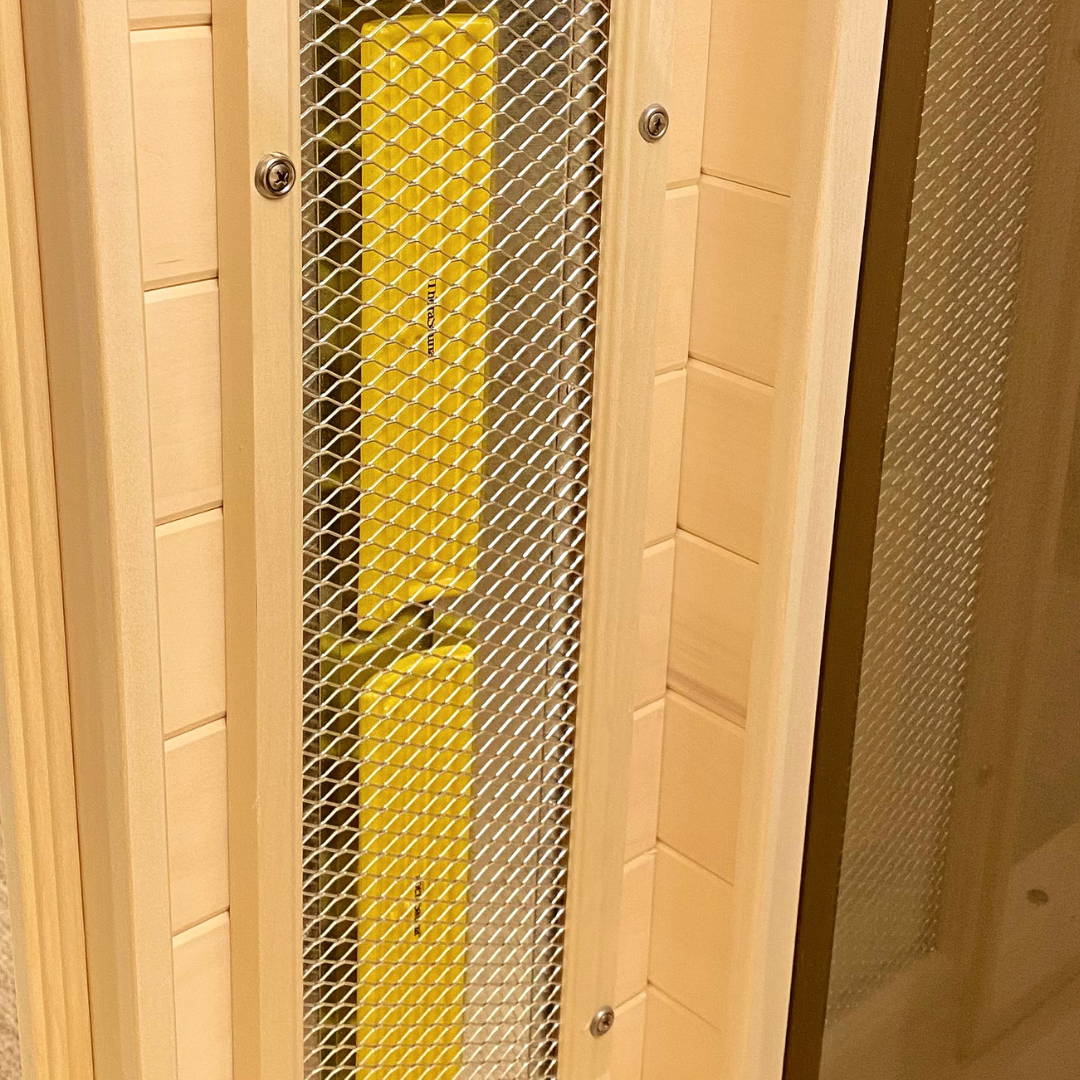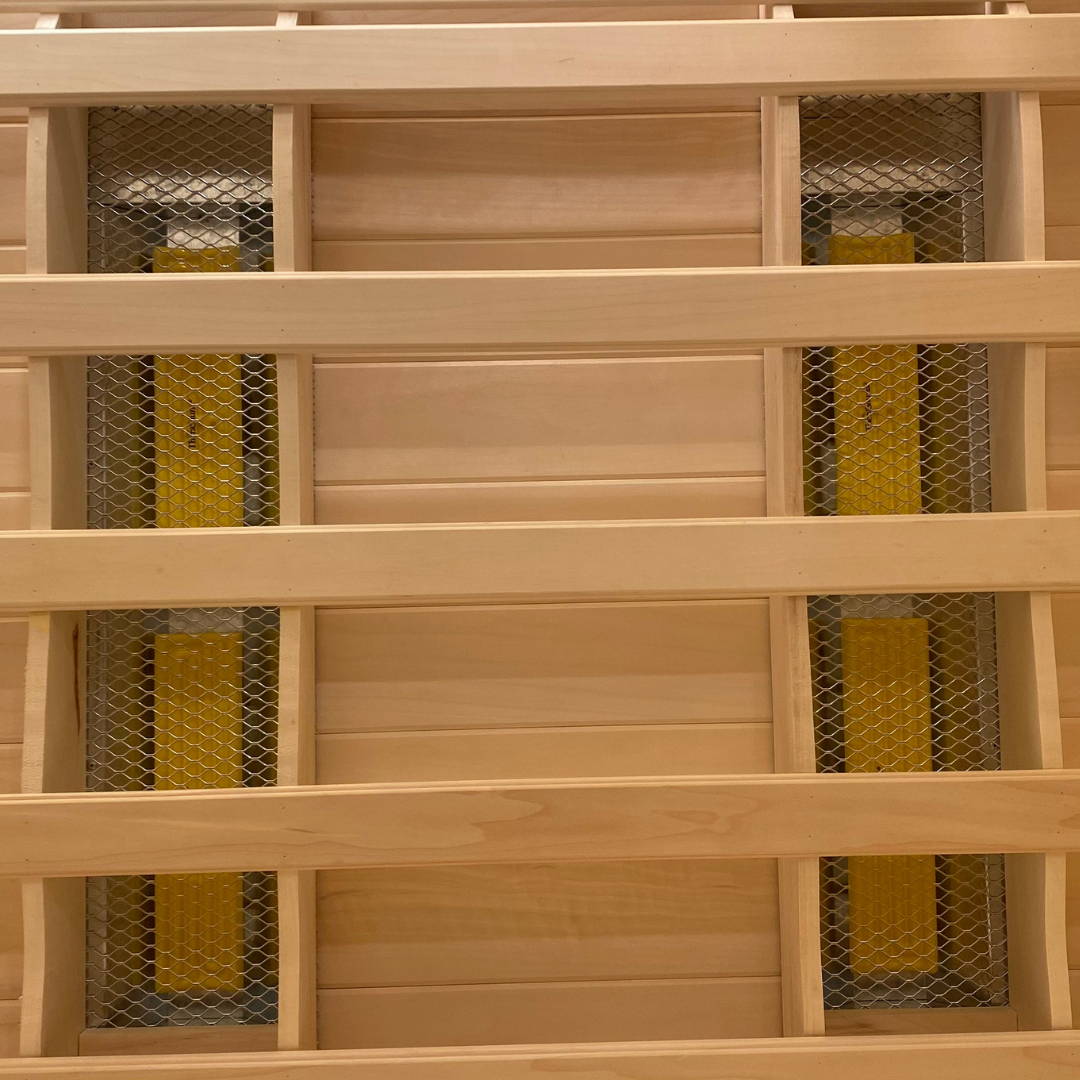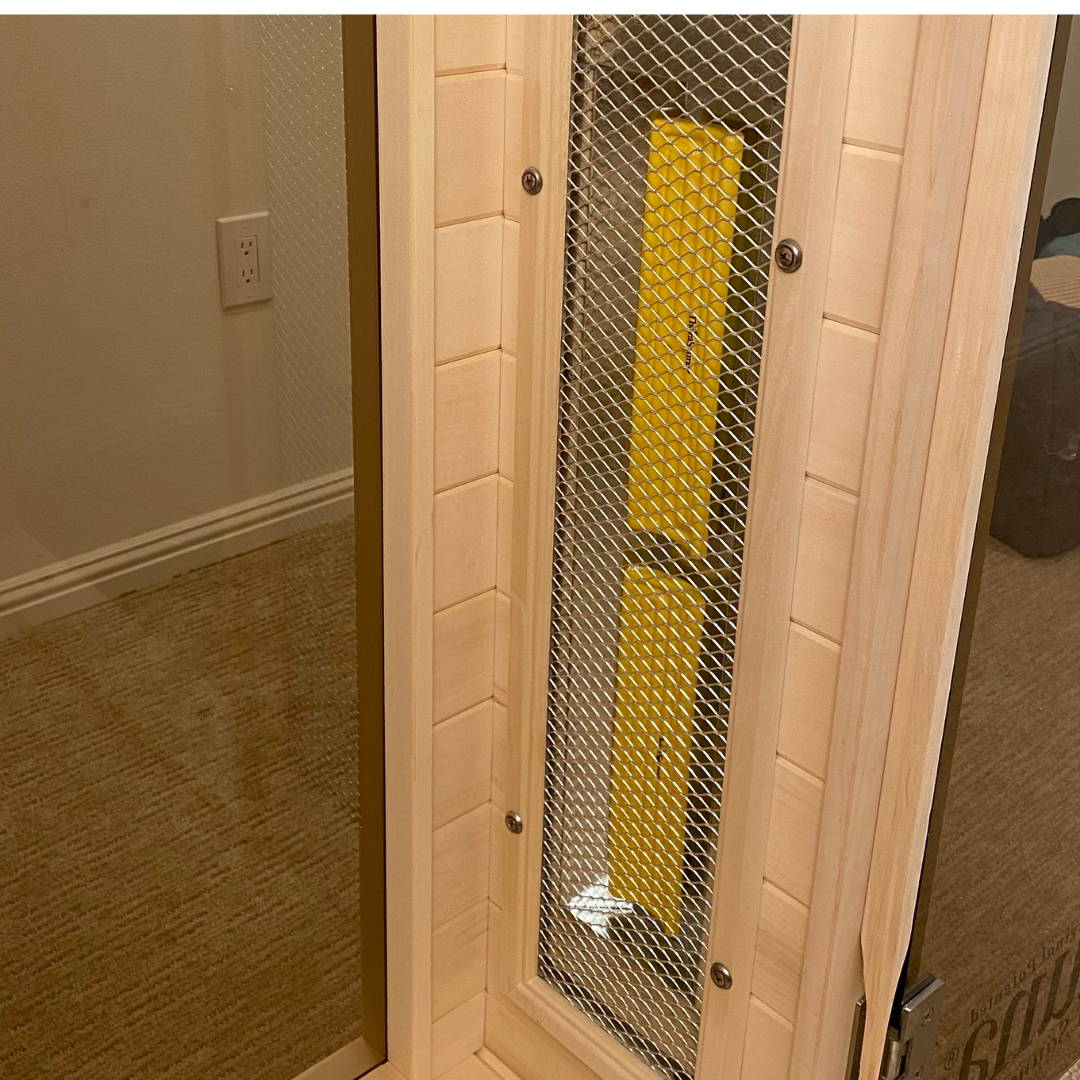 TheraSauna's "TheraMitters" are the most advanced infrared heating technology on the market today. Due to their unique concave shape, infrared is emitted at much wider, more concentrated infrared wavelengths. This results in zero cold spots, and full 100% body coverage. TheraMitters are made of proprietary high glass, solid ceramic content. These heaters are very different from the traditional ceramic heaters in the industry. A TheraMitter™ is a unique, patented heating unit that is made of solid ceramic and is distinct from tubular ceramic heaters that consist of wire and metal thinly coated with ceramic. Tubular ceramic heaters are similar to the process of coating jewelry with silver to give the impression f solid sterling silver, but after time the underlying metal starts to show after the silver plating wears off.
| | | | | |
| --- | --- | --- | --- | --- |
| | | | | |
| Heater Type | Concave Ceramic TheraMitter™ | Incoloy Rod Heaters | Tubular Ceramic Heaters | Carbon Fiber Heaters |
| Description | TheraMitter™ heaters have the highest glass content in the industry which provides uninhibited transmission and output of far infrared. Concave Ceramic TheraMitter™ heaters are able to spread infrared heat waves in a 180º pattern, effectively covering every square inch inside the sauna. Due to the quality of the reflector, all energy is given direction toward the user to improve the delivery of far infrared. The watt density of the TheraMitter™ is ideal; providing the user with the highest output of far infrared at the most beneficial micron range for the human body. | Cylinder-type steel heaters are used by a number of different sauna companies. Incoloy rod heaters have a short life span due to the compaction of the magnesium oxide which tends to short out the helical wire. They also have an extremely high watt density which produces a very high surface temperature of the rod, which in turn produces a lower ineffective range of infrared. | Tubular ceramic heaters have a short life span due to the compaction of the silica sand which tends to short out the helical wire. They also have an extremely high watt density which produces a very high surface temperature of the rod, which in turn produces a lower ineffective range of infrared. | They operate at a very low cabinet temperature of approximately 130ºF and have a very low radiant efficiency. This type of heating element is used in automotive seat heaters. Carbon fiber heaters tend to absorb odor, then re-emit the offensive odor back into the sauna. In addition, since the carbon fibers are encased in fiberglass, resins, and epoxy adhesives, it vents the gases of these components back into the air when the sauna is heated. |
| EMF Levels | Very Low, due to the fact that the wire changes direction several times over the face of the heater | High, due to a non-cancelling wire and non-insulating metal surface | High, due to a non-cancelling wire and non-insulating metal surface | Varies |
| Composition | Natural Earth Elements, High-Glass Content Ceramic | Tubular elements consist of a helical resistant wire inside a metal tube filled with magnesium oxide as an insulator and heat conductor. | Tubular ceramic heaters consist of a helical resistant wire housed in vitreous silica sand enclosed in a metal tube. | These heaters sandwich a carbon screen between two fiberglass epoxy resin casings. |
| Watt Density | Ideal | Extremely High, produces less effected infrared | Extremely High, produces less effected infrared | Very Low, makes heating the sauna more difficult |
| Radiant Efficiency | 96 % | 50% | 50% | 55% – varies |
| Infrared Micron Range | 6.0 – 14.0 | 3.0 – 6.0 | 2.5 – 6.0 | 4.0 – 12.0 |
Safety and Low EMF Matters
Since we currently carry 10 different brands of saunas, we always want to make sure we are setting our customers up for satisfaction with their purchase. We occasionally highlight different brands and products we personally use or would recommend to loved ones. Here is a quick video from the co-founder of USA Health and Wellness briefly talking about his experience with TheraSauna.
TheraSauna's Exclusive Patented Technology
The only infrared sauna that maintains the optimal 9.4 micron range throughout your entire infrared sauna session. 9.4 microns is the optimal range for human absorption. TheraSauna saunas have patented technology called Stable Heat which idles their TheraMitter heaters at these levels for your entire duration of your sauna session.

The Spectra Wave function is an exclusive feature that allows the sauna to move through a specific infrared spectrum. The sauna's onboard computer system has 8 different pre-selected power settings and cycles through a new setting every 2 minutes. This allows TheraSauna to produce near, middle, and far infrared energy when this feature is utilized.

Micron Power Select allows you to vary the infrared output from each TheraMitter zone and control the infrared micron range during your sauna session. The TheraMitters can be customized easily to a surface temperature between approximately 450 degrees F down to an amazing 126 degrees F. This is an extremely useful feature for multiple sauna users.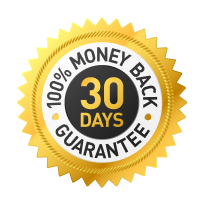 We're 100% confident about TheraSauna, that we offer a 100% money back guarantee if you are not completely satisfied with your purchase.
Order now with complete confidence.

Therasauna TS5753 2 Person Plus Infrared Sauna features:
Dimensions: 58.5" W x 50.5" D x 78" H
Wood: Non-toxic Aspen Wood
Controls: Patented MPS 7 Day Programmable Touchview Control
Heaters: 10 Solid Ceramic TheraMitters
Backrest: Ergonomic, Contoured Backrest
Bench: Reversible Bench (Flat & Curved)
Door: Smoke Glass Door with Two Side Windows and TheraSauna® Logo
Electrical: Plugs into 120 Volt / 20 Amp Outlet
Watts: 1531 watts
Exterior: Warm Mahogany Clear Seal Finish or Natural Aspen Finish
Interior: Tongue & Groove Interior
Light: Elegant, Dimmable Sconce Light, 60 Watt Bulb
System: Patented StableHeat System™
Vent: Ceiling Vent
Meets/Exceeds ETL and CE safety requirements