THE ONLY WAY TO DO CRAFTSMANSHIP
TheraSauna Full Spectrum Infrared Saunas are the only infrared saunas manufactured in the United States of America. Since 1966 TheraSauna has been handcrafting the finest luxury infrared saunas on the market.
Solid Ceramic TheraMitters™
TheraSauna's TheraMitters are the safest, most emissive infrared sauna heater on the planet. Engineered with 100% high glass ceramic and concave in shape, nothing else compares.
TheraSauna™ Luxury Infrared
Made in the United States of America
As low as $70.00 per month
True Full Spectrum Technology - Near, Mid and Far Infrared
Secure Your TheraSauna Today!
We have a limited availability of TS4746 units ready to ship. Secure yours today! Simply choose between Natural finish or the Warm Mahogany Finish. By selecting Buy Now you will be redirected to your shopping cart where you can checkout either through credit card, paypal, or one of our many 0% interest financing options. Feel free to call us anytime with questions at 207-619-4291.
The Difference Is In The Heaters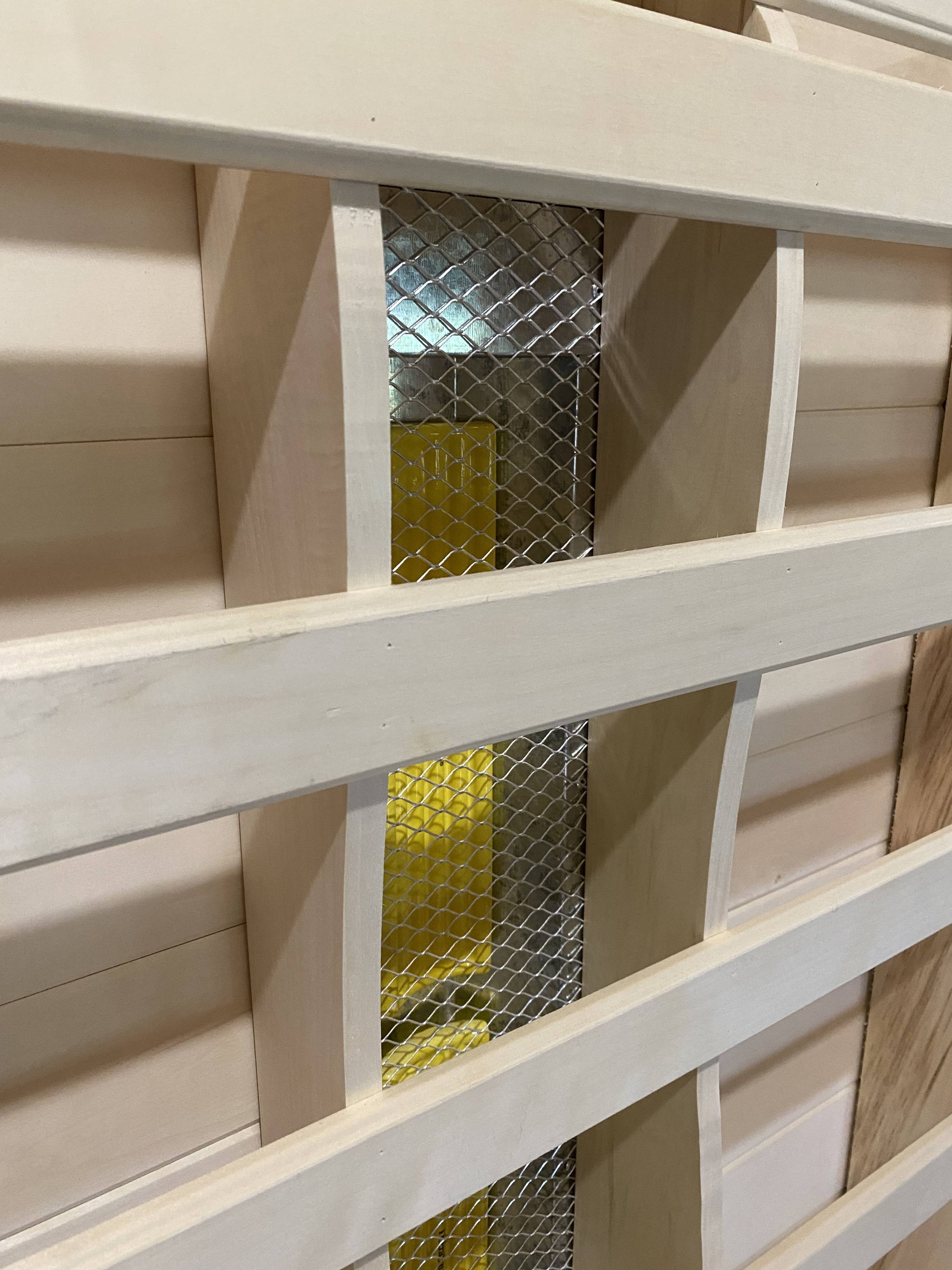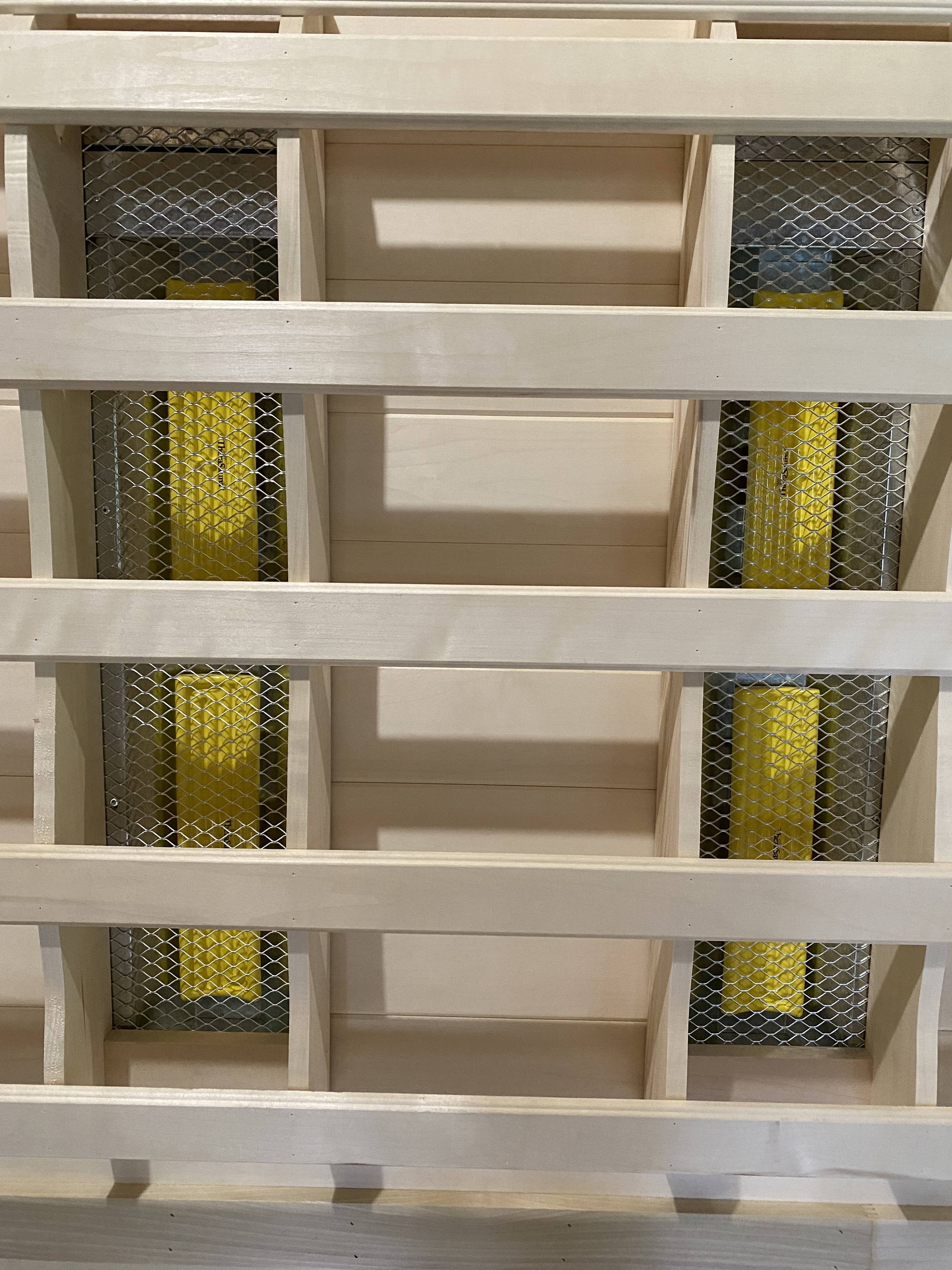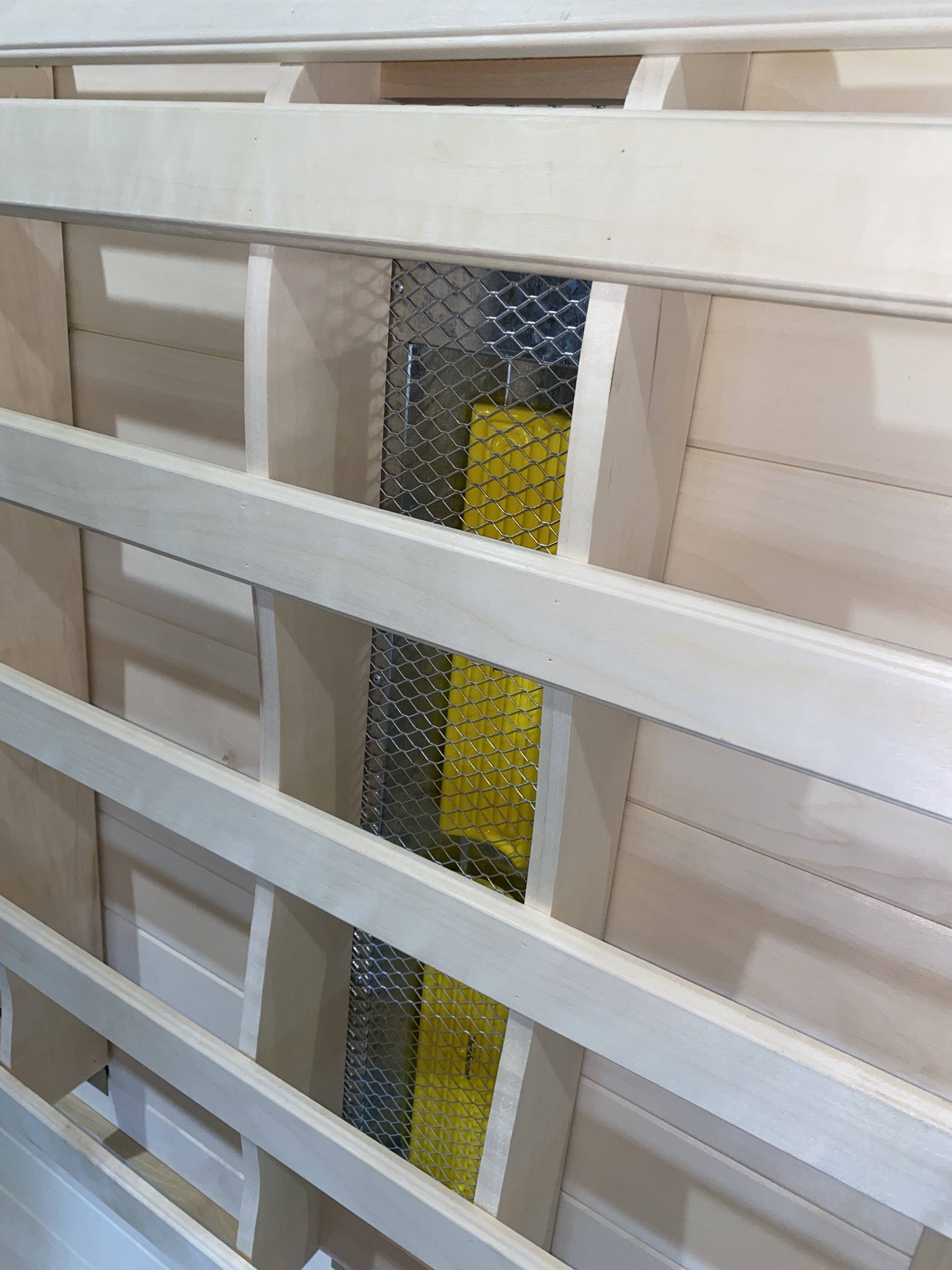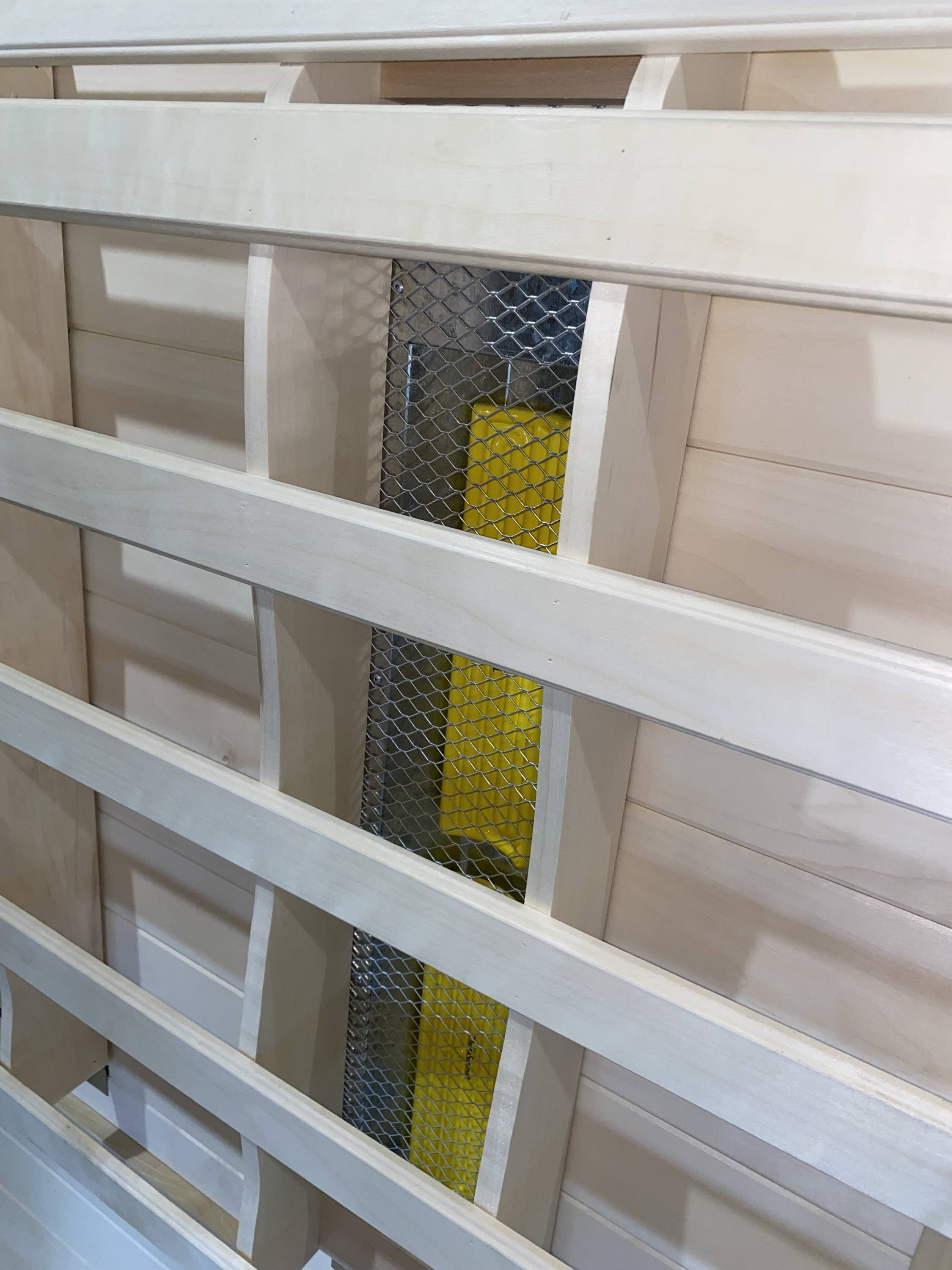 Infrared saunas are really a lot less complicated than we all imagine. The heaters/emitters are the engine to what makes an infrared sauna do what it's supposed to do. TheraMitter's are proprietary, high-glass, solid ceramic infrared heaters which are very different from any other heater in the sauna industry. A TheraMitter™ is a unique, patented heating unit that is the most emissive infrared heater on the planet. Most infrared saunas are equipped with carbon fiber heaters that tend to be much too mild for the average sauna user. Ceramic heaters are more intense and will have you sweating in as little as two minutes! TheraMitters™ are over 96% efficient and have a lifetime warranty. Carbon fiber heaters, by contrast, are only 55% efficient and made of plastic sheets with microscopic fibers held together with resins and epoxy glues. Not only are ceramic heaters safer and more efficient, but they also last much longer as they do not lose intensity over time. The opposite with carbon fiber heaters which lose up to 5% of their intensity year over year. TheraSauna's TheraMitters™ are also concave in shape which creates a much wider, more concentrated infrared body coverage. TheraSauna always keeps safety and performance as top priority. Their engineering has delivered once again with ultra low levels of EMF but the most performance driven infrared heater on the market.
Available In Two Finishes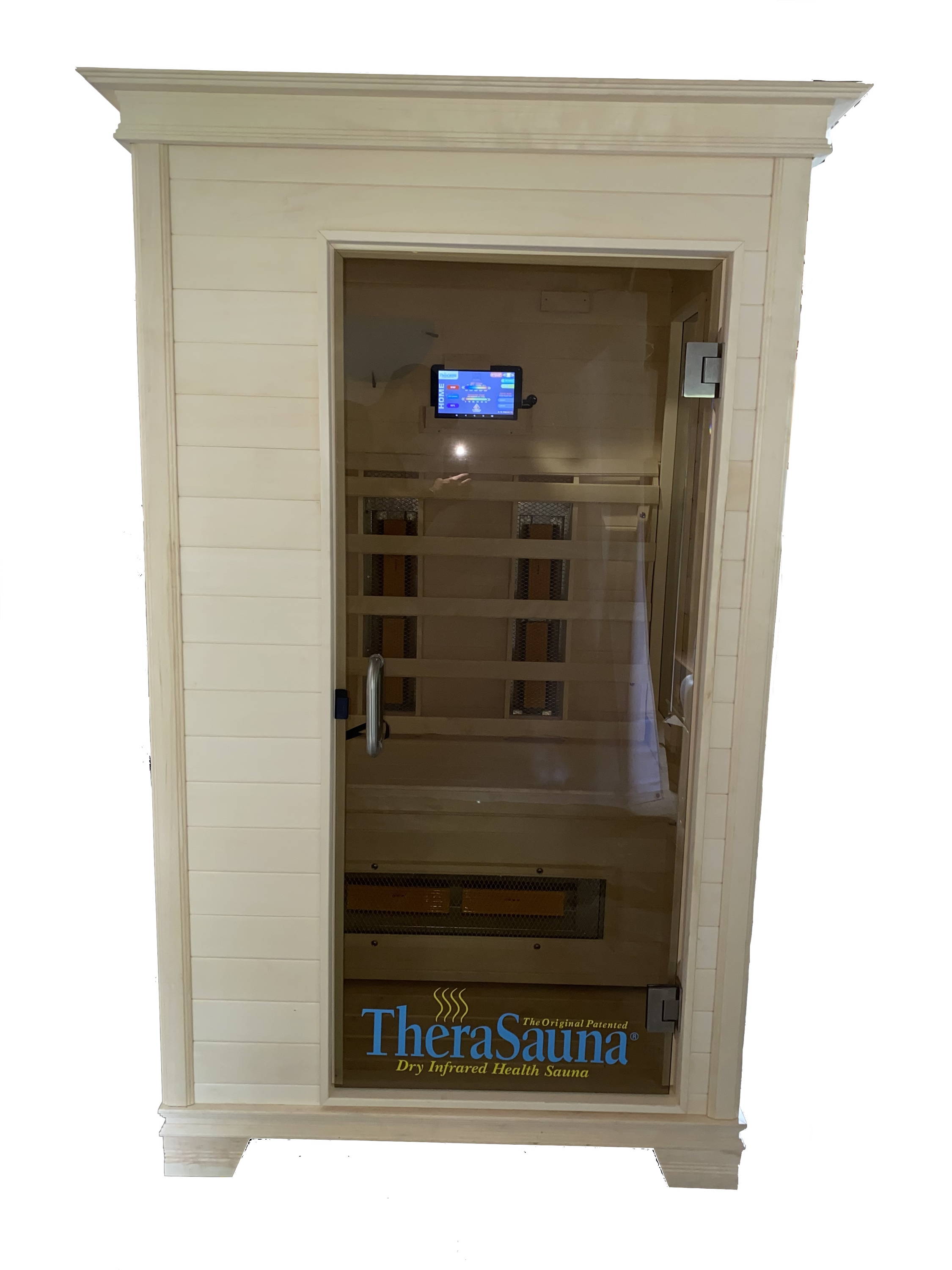 Experience The Difference
Exclusive Patented Technology

This patented, 7 Day Programmable Control allows you to set the desired time your sauna will turn on Monday through Sunday. You can set the timer to pre-heat the sauna for you so that it is ready when you get home from work or when you wake up in the morning. Getting into a cold sauna and waiting for it to warm-up is a thing of the past. Just press, set and forget... the TheraSauna® will remember the rest. The onboard computer memory will hold the settings in memory even if the sauna experiences a power failure.

Micron Power Select allows you to vary the infrared output from each TheraMitter zone and control the infrared micron range during your sauna session. The TheraMitters can be customized easily to a surface temperature between approximately 450 degrees F down to an amazing 126 degrees F. This is an extremely useful feature for multiple sauna users.

The Spectra Wave function is an exclusive feature that allows the sauna to move through a specific infrared spectrum. The sauna's onboard computer system has 8 different pre-selected power settings and cycles through a new setting every 2 minutes. This allows TheraSauna to produce near, middle, and far infrared energy when this feature is utilized.

The only infrared sauna that maintains the optimal 9.4 micron range throughout your entire infrared sauna session. 9.4 microns is the optimal range for human absorption. TheraSauna saunas have patented technology called Stable Heat which idles their TheraMitter heaters at these levels for your entire duration of your sauna session.
Unmatched Quality and Design
TheraSauna only uses the best quality materials and components money can by. For over 25 years TheraSauna's core values have included the ability to deliver the most eye-popping design and detail. Every inch of this luxury sauna is built with the highest end elements. It only takes one small glance to notice the difference! Take your first step into quality today!
Handcrafted in DeWitt Iowa
Unlike most saunas imported from Asia, TheraSauna is handcrafted in Dewitt, Iowa. For over 25 years TheraSauna has been leading the way with the only USA made infrared sauna loaded with exclusive features and patents.
Talk To A Sauna Specialist!
User Friendly Tablet Style Control System
Now More Advanced Than Ever
Never worry about a cold sauna again! This option will (in MPS and SpectraWave Mode) heat your sauna to your set temperature. You are even able to save a different automatic start-up time for all 7 days of the week for up to two users.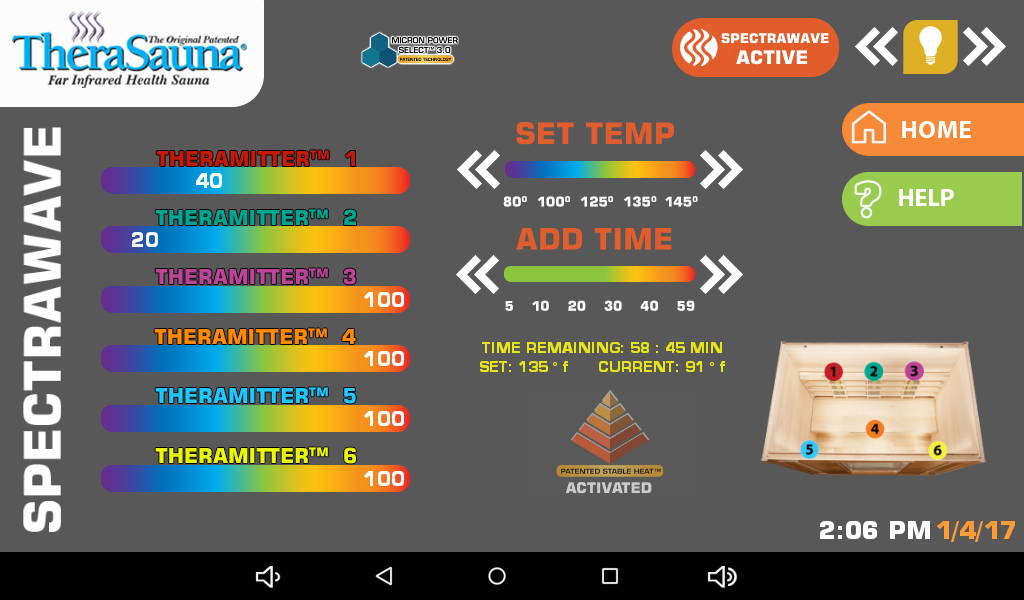 This screen is a graphic illustration of how your different zones are working. It shows current and set temperatures and elapsed time left. Here you can set temperature and add time to your session. In SpectraWave mode, press to add time to your sauna session, and increase or decrease the set temperature. Levels are individually changed every two minutes automatically. This allows the user to experience a combination of near, mid and far-infrared wavelengths.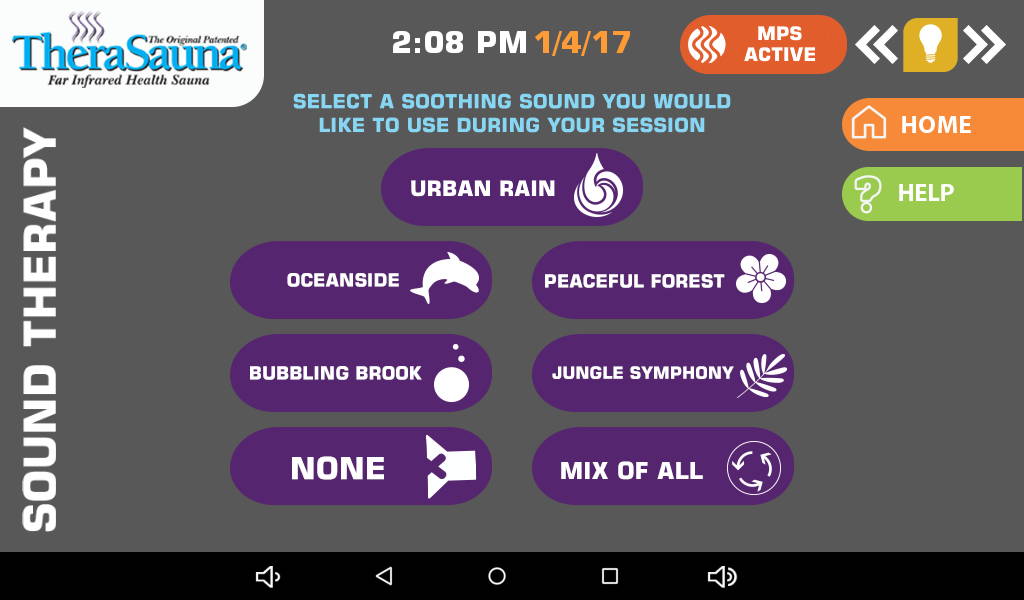 Enjoy relaxing, built-in sound therapy. The Audio Screen offers 5 unique & relaxing tracks that can be played during your sauna session. Choose from Rolling Waves, Oceanside, Jungle Symphony, Bubbling Brook, Peaceful Forest, or a mix of these for the perfect relaxing sound therapy during your sauna session.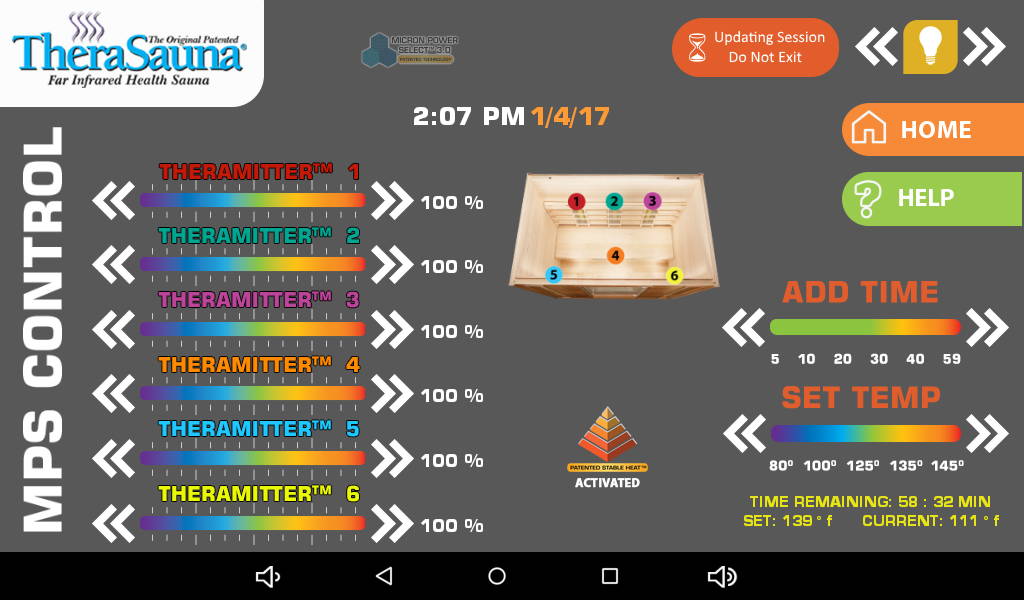 The patented MPS Touchview 3.0 Control is the newest infrared sauna breakthrough technology! The touchscreen control allows you to customize your sauna sessions. Adjust time, temperature, infrared wavelength levels, and more! Have your sauna experience exactly how you want it. This feature gives you 15 different power level options and allows users to adjust each individual TheraMitter Bank. This means you can customize each heating bank for your exact temperature and wavelength preferences. For example, you want your head warm with near infrared wavelengths but you want your feet cool and your back hot with far infrared. Choose your mode for you and save those settings for up to two separate users.
Unpacking And Assembling Your New TheraSauna
Not only is the quality amazing, so is the simplicity of assembly!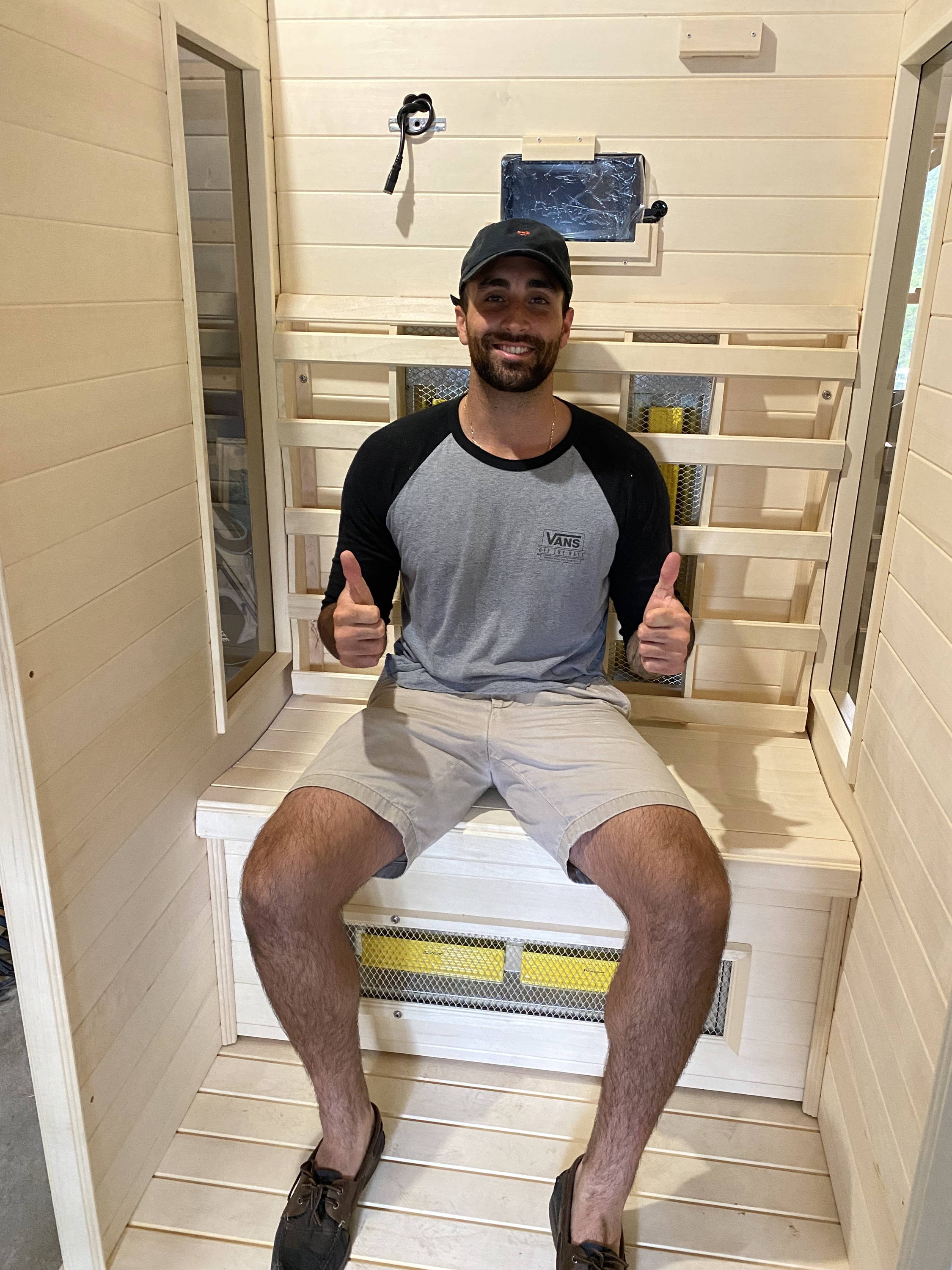 FREE SHIPPING WITHIN THE 48 CONTIGOUS STATES
FREE RETURNS NATIONWIDE ON ALL SAUNA ORDERS

LIFETIME WARRANTY ON ALL THERASAUNA INFRARED SAUNAS

100% SAFE AND SECURE CHECKOUT WITH SHOPIFY